The Solicitors Qualifying Exam (SQE)
If you are currently studying for a law degree, or even if you are considering one, whether it be at undergraduate level or the LPC, you will almost certainly have heard of the Solicitors Qualifying Exam (SQE). This is, however, not a call for panic as it is not due to come into practice for some time yet. It will, however, almost certainly impact on anyone entering the profession in the next few years and may even shake up the current academic landscape for entry into the profession. This article will serve to discuss what the SQE is, why it is being introduced and what it may mean for those aspiring to join the ranks of qualified solicitors in the UK.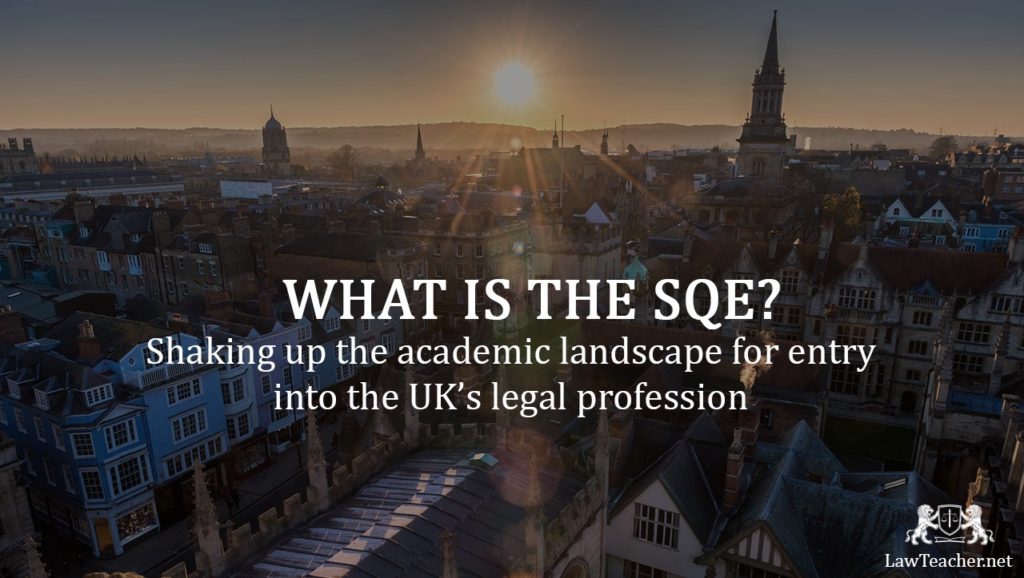 What is the SQE & Why is it Being Introduced?
In short, the new exam will serve as an independent, centralised assessment for would-be solicitors, with the eventual aim of replacing the LPC.
The SQE is currently set to come into force in Autumn 2021; however, the Solicitor's Regulation Authority (SRA), those behind the push for the new assessment, have stated that this is an earliest date, implying the potential for delays. This may not be such a bad thing; with such comprehensive changes, come the need to ensure the processes and details are implemented right. Consultations for reform of the system have been underway since 2015 and, with Kaplan appointed as the examination assessors and adjudicators, you can be rest assured that a great deal of thought has been given to the development of this change.
The reasons behind the SQE appear to be twofold and goal-oriented:
1. To introduce a centralised, uniform high standard for all new solicitors to meet across the UK
2. To allow for a more accessible and flexible means of attaining qualification
How does the SQE Compare Against the Current Process?
With regard to what will change in practice, it is useful to highlight the current path to qualification, to offer comparison.
As can be seen above, the changes the new process bring are quite profound. Where these may be clearly most felt will be at the degree-level. The new process moves from a "qualifying law degree", like the LLB or GDL conversion course, to simply an undergraduate degree or equivalent experience. This clearly allows for an easier and less restricting route into practice, with an emphasis on choice from the aspirant. It seems entirely possible for an ambitious applicant to self-teach, circumventing the current GDL and even the LPC. What this may mean for the GDL and LPC will be discussed below.
The next differences are the two assessment stages themselves. The first, regardless of your degree or qualifications, will assess legal knowledge through multiple choice examinations. This first stage, naturally, must be completed before the second. The latter stage is also mandatory and will constitute more practical assessments. Earlier this year, a pilot test for Stage 1 was carried out. A recent article by Legal Cheek offers some interesting thoughts on this Stage 1 assessment, carried out over 3 days, highlighting that:
The MCQ format was very patronising and far too easy. It was like a dummies guide to the law! The questions did not test my legal knowledge to the standard that my law degree did.
This is interesting, especially compared with the often-cited challenges associated with the current LPC course and its assessment. It may well be that Stage 1 is used to establish key, if basic, competences, and Stage 2 offers more challenge in the practical applied examinations projected by the SRA; however, there is also an argument, though admittedly based upon an opinion piece of a pilot, that if maintained, the SQE may invalidate those who studied the LPC. On the other hand, this will offer a standardised approach, and one that may allow for a simpler, more logical way of assessment not tied to a university course. Regardless, at this point, the contents of the Stages is not set in stone and the outcome and thoughts of the pilots will likely be taken into account by the SRA.
Further to this, the 2-year Training Contract will be replaced by two years Qualifying Legal work Experience (QLE). On the face of things, this does not seem such a big change, but this QLE can be with up to 4 different legal employers, and is likely to include paralegal work, and even pro bono. Another difference to the current model, is that there will no longer be a requirement for trainee solicitors to work in a specific number of different areas. This clearly offers an advantage to the current system, with training contracts notoriously competitive and difficult to obtain, and allowing trainees to use their QLE to specialise in those areas they most envision themselves pursuing in the profession; however, it seems quite likely that two-year training contracts will continue, especially as firms are under no obligation to shorten said placements in light of experience already gained. There may be pressure in light of the new QLE to change this, but only time will tell how firms may react.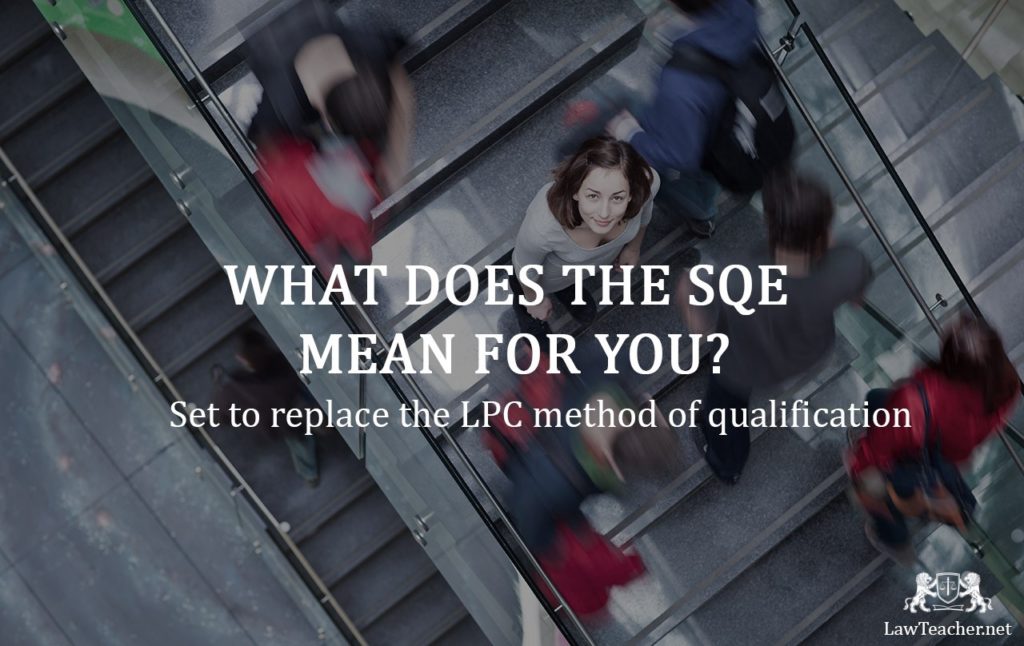 What Does the SQE Mean for You?
While the SQE is shaking things up in terms of the process by which solicitor qualification is granted, there may be concerns over what this will mean for those who have already completed their degrees, LPC or otherwise. While the eventual intention, as expressed by the SRA, is to replace the LPC method of qualification, the impact will likely not be so clean cut, or severe, as it may seem.
Anyone who starts their law degree, GDL or LPC before 2021 should not be affected; however, it has been expressed that they may still choose to complete the SQE if they wish. Further to this, a transitionary period has been recognised, with the LPC being recognised as late has 2032. This will allow for those who have already completed an LPC at, or around the time, of the SQE's introduction to qualify the 'old way'. This will likely assuage some concerns; however, it is still worth pointing out that the training committee of the City of London Law Society, representing City firms, has also expressed some aversion to operating two systems and may likely insist all future hires take the SQE from 2022. This still allows for some transition and flexibility and may not affect all firms, especially those outside of London.
What are the Cost Impacts for SQE?
The current estimated costs for the SQE are broken down across the two Stages, but the SRA state that it will likely total between £3,000-£4,500. The SQE Stage 1 Written and Computer-based Assessments will likely be in the range of £1,100-£1,650 and the SQE Stage 2 Practical and Applied Assessments will likely be between £1,900-£2,850. In isolation, this can range to up to a third of current LPC costs according to Prospects. This also contributes to the clear goal of the SRA to standardise the admittance procedure, including costs.
Source: https://www.lawsociety.org.uk/law-careers/becoming-a-solicitor/sqe-overview/#sqe17
Will there still be Courses Available for SQE Preparation?
While the new assessments do not require any preparation courses, unlike the LPC's tied course and examination, it seems highly likely that courses will be available and even encouraged. Much is still in flux as to what these courses will look like, though some companies are preparing tailored courses for each stage of the assessment. LawTeacher is one of the websites which will be offering online preparation courses as the SQE approaches. There is also some impetus for current law degree programmes to adapt to take the new SEQ into account. An example of this is the Nottingham Law School's introduction of an 'applied legal knowledge' pathway in the academic year 2018/2019, taking place in students' third years. Goldsmiths, University of London, too, is preparing to launch a new law degree to specifically incorporate the SQE in Autumn.
The 'choice' aspect of the new SQE, therefore, appears to remain, but candidates will need to decide whether they think the education and experience they have undertaken is enough to pass the SQE. This may be a difficult decision to make, especially as SQE Preparatory Courses will likely arise and the pressures to complete these may arise with them. The costs of such courses are, as yet, unknown, but will add to the already high examination costs substantially.
Closing Thoughts
The SQE is sure to shake up the legal education and qualification landscape, but whether this will be a positive change or not, has yet to be seen. Overall costs for qualification may lower, but the value of the examinations may be one that can be seen to be rather high, especially when combined with inevitable preparatory courses; however, there is already movement within several universities to cater to the SQE within the existing law degree framework. Additionally, the new QLE expansion may allow for an easier, or at least more flexible, route for those unable to attain competitive training-contracts.
Please let us know what your thoughts are as to the upcoming SQE changes in the comments below. What do you think of the replacement of the LPC? Are you excited for a more dynamic and flexible approach to obtaining your qualification? We will make sure to keep you appraised of any further developments as they are made known.